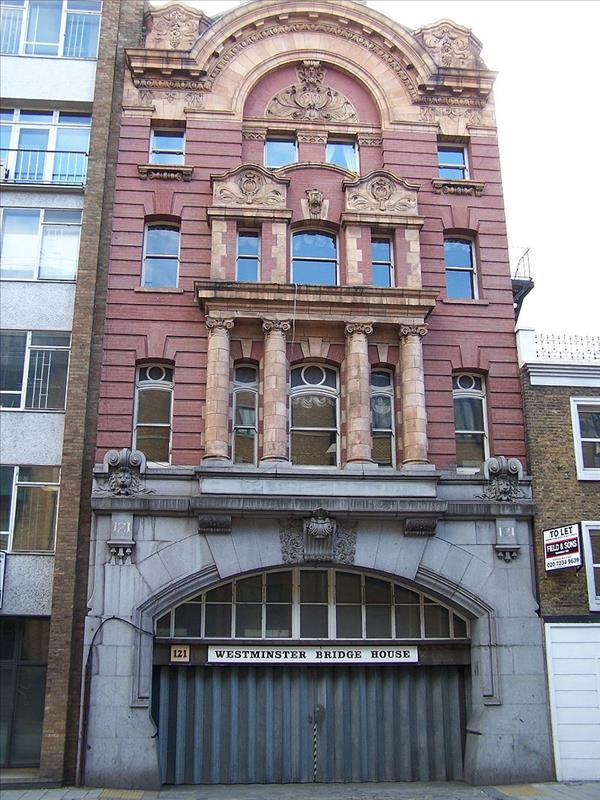 Published: 14/11/2017   Last Updated: 14/11/2017 13:12:29   Tags: Necropolis_Railway, Death_Railway, Waterloo, Westminster_Bridge_Road
Behind most buildings in Central London there is a history,be it political, logistical, practical or even a bloody one. Below one of our favourite buildings in Waterloo, there is a secret that reveals a lot about the strange past of the area…

Located halfway between Lower Marsh and Lambeth Northstation is 121 Westminster Bridge Road, a grand red-brick building that over 150 years ago had thousands of bodies delivered through its doors every month.

This entrance and its beautiful façade is all that is left of the London Necropolis Railway or Death Railway, a railway company formed exclusively for transporting corpses out of the city centre in the 1850s, in response to the overcrowded burial grounds of Inner London.
Conceived by the London Necropolis Company, a site was sourced near Brookwood Park, Surrey, and proposed that with the aid of overland trains, this burial ground was far enough so it was within easy travelling distance of London, but distant enough for the dead not to pose any risk to public hygiene.

City dwellers who had died were transported to be buried in leafy Surrey, with friends and family often travelling alongside for the funeral. Singles were available only for the deceased, returns being offered only to the living.

As a route it was planned meticulously, chosen as the rolling Surrey hills would be soothing to grieving relatives. They even had their own dedicated carriages, as they thought that regular passengers would not want to travel in cars that had been already been used to transport corpses.

The terminal was designed exclusively for funeral-goers. It had plenty of private waiting rooms and a hydraulic pulley to raise coffins to platform level. Basic mortuaries were also set-up in the arches alongside the rail tracks to store the bodies before being loaded onto the trains.
Initially the Necropolis terminus was built approximately where Leake Street currently is (opposite the original main entrance to Waterloo station), where both stations shared the lines. It was an entirely separate building, complete with segregated waiting rooms divided by social class and religion.

By 1898, Waterloo station's capacity was at breaking point and encompassed the surrounding buildings for its infrastructure, forcing the Necropolis building to be move to a new site at 121 Westminster Bridge Road.

It continued to run services right up to the Blitz, inflicted by severe bomb damage by 1941, and with a significantly reduced service until the end of the war, when it was decided it was not financially viable to continue the service.

203,041 deceased passengers were estimated to have travelledto their final-destination from 1854-1941. It was the first of its kind & the world's longest lasting funeral railway line.