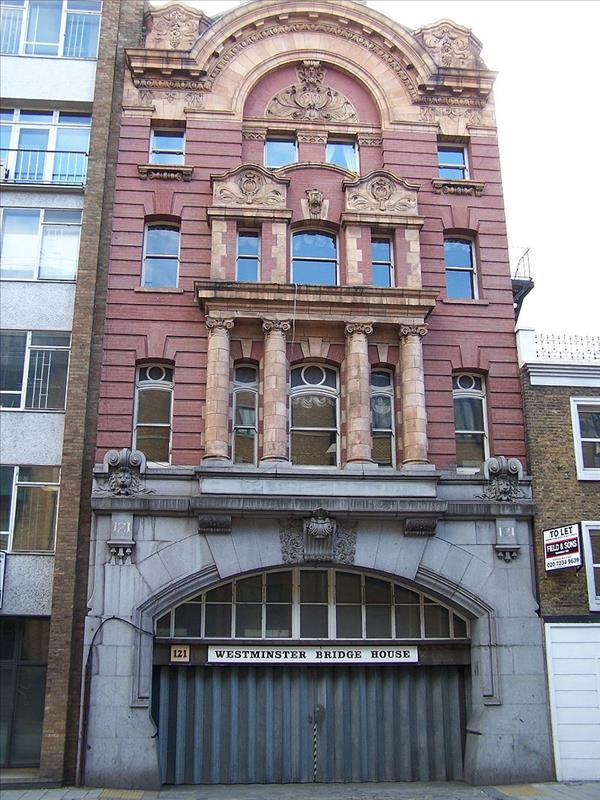 Published: 14/11/2017   Last Updated: 14/11/2017 13:12:29   Tags: Necropolis_Railway, Death_Railway, Waterloo, Westminster_Bridge_Road
Behind most buildings in Central London there is a history,be it political, logistical, practical or even a bloody one. Below one of our favourite buildings in Waterloo, there is a secret that reveals a lot about the strange past of the area…

Located halfway between Lower Marsh and Lambeth Northstation is 121 Westminster Bridge Road, a grand red-brick building that over 150 years ago had thousands of bodies delivered through its doors every month.

This entrance and its beautiful façade is all that is left of the London Necropolis Railway or Death Railway, a railway company formed exclusively for transporting corpses out of the city centre in the 1850s, in response to the overcrowded burial grounds of Inner London.
Conceived by the London Necropolis Company, a site was sourced near Brookwood Park, Surrey, and proposed that with the aid of overland trains, this burial ground was far enough so it was within easy travelling distance of London, but distant enough for the dead not to pose any risk to public hygiene.

City dwellers who had died were transported to be buried in leafy Surrey, with friends and family often travelling alongside for the funeral. Singles were available only for the deceased, returns being offered only to the living.

As a route it was planned meticulously, chosen as the rolling Surrey hills would be soothing to grieving relatives. They even had their own dedicated carriages, as they thought that regular passengers would not want to travel in cars that had been already been used to transport corpses.

The terminal was designed exclusively for funeral-goers. It had plenty of private waiting rooms and a hydraulic pulley to raise coffins to platform level. Basic mortuaries were also set-up in the arches alongside the rail tracks to store the bodies before being loaded onto the trains.
Initially the Necropolis terminus was built approximately where Leake Street currently is (opposite the original main entrance to Waterloo station), where both stations shared the lines. It was an entirely separate building, complete with segregated waiting rooms divided by social class and religion.

By 1898, Waterloo station's capacity was at breaking point and encompassed the surrounding buildings for its infrastructure, forcing the Necropolis building to be move to a new site at 121 Westminster Bridge Road.

It continued to run services right up to the Blitz, inflicted by severe bomb damage by 1941, and with a significantly reduced service until the end of the war, when it was decided it was not financially viable to continue the service.

203,041 deceased passengers were estimated to have travelledto their final-destination from 1854-1941. It was the first of its kind & the world's longest lasting funeral railway line.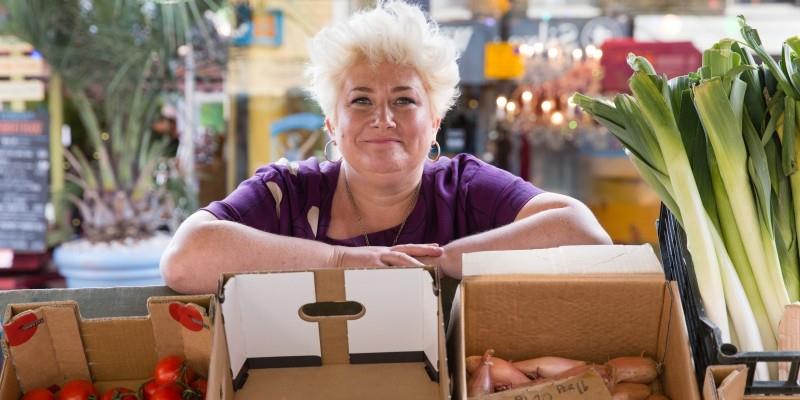 Published: 21/06/2017   Last Updated: 21/06/2017 12:40:48   Tags: Lower_Marsh, SE1, Market_Stalls, Waterloo
1. How is the food market going?
Very well, in December, there was a 19% increase on the previous year so growing fast. We Are Waterloo have invested a lot of time & money into the market, particularly for the customer. The addition of seating was crucial to retaining people in the warmer weather as well.
2. When did the market first originate?
1880. It used to be one of the longest street markets in London, running down not only Lower Marsh but the Cut too, selling fruit and veg, meat, fish bric a brac etc….However, it died a death in the 1980's when the Greater London Council (GLC) was dissolved resulting in massive cuts and the loss of a large part of its community.
3. What does your job involve?
So, my role as Food Market Manager, means I'm in charge of all the stalls and who we hire. I do marketing, business planning, accounting and debt recovery, which is a pain!
I love the drama of it, I get such a buzz, when it's all set-up, and there are huge queues!
4. Who is the most successful vendor for the market?
I think the ones that are doing the most covers are either Pad Thai or Ibrihim the Falafel man, they have a good source of regular customers.
Another one is Merrybok, offering Senegalese cuisine, they generally work longer hours and are here every day.
5. What time of year sees the most trade for the market?
Applications come in all the time, although they stop a bit during July and Aug, a lot of the traders go off to do the festival season, which is a massive money spinner for them. So, in summer we sometimes have less traders. New Year sees the most applications come in.
6. How long is the waiting list for a stall space?
I tend not to hold a waiting list, as it is very popular, but I generally at any given moment have 8 traders waiting for a stall at any given moment.
7. Are there any regulations you have to abide by to open a stall?

Of course, you have to register with us and Lambeth council for compliance; there is lots of food hygiene stuff, similar to what restaurants have to go through.
8. What has been the strangest/most alternative application for a stall you have ever received?
You know what is funny, is some of the brand names that people come up with; most I cannot share, but one did accidentally spell the C word with their branding…
9. If I wanted to start up a stall how would I go about applying? How much does it cost to set up a stall? Can you rent it weekly, monthly or does it have to be annually?
You would send in an application, we would invite you to a tasting and then go from there.
It can take up to 6 months for someone to get a stall, particularly with people who are not ready and do not get the operation of running a market stall.
We have a licence for the whole street so we rent out a specific pitch and then they pay our basic rate, and we try to guarantee them as many regular days as possible within negotiation.
Normal day rate is £10 for non-food, and they get a tent and a table. The produce stalls, selling fruit, veg, fish, is £20 per day, and they generally get a tent.
The hot food is £45 per day, due to the additional cost for electricity and storage.
10. What tips would you give any budding entrepreneurs looking to try out their business on a stall. Any usual mistakes you have come across?

Tips would be keep it simple, do what you love, and find something you love cooking, and keep your brand simple.
11. You had a very successful Christmas market with carols! Any other events planned for the year ahead?
We have the Waterloo food festival in July, we are going to launch this festival on the 29th June 2017, and will be closing the street for the whole day, with stalls in the middle of the street, street entertainment, workshops. It will be a day for the diary!
And the Christmas Carols again in December!
12. We've heard the busker appeared close to the Vaults, a great idea! Is this a permanent new fixture? Do you think music and food go hand in hand?

It is a permanent fixture now yes! Randomly these two guys just pitched up and started busking, which initially we thought was a bad idea, but they were really good so we let them keep going.
We have now sent it out to all the busking networks, and invited Morley College, who have a music programme around the corner to participate, so hopefully we'll have some decent buskers soon! The public generally stay longer when there is live music whilst they eat so, yes, it works well together.
13. Lastly, what in your opinion makes Lower Marsh so unique?
There is something that is in the air that makes it so unique, and it has a particular kind of culture with its independent shops. There is a real mixture of people and housing, with local authority accommodation, new builds and people coming to Waterloo to work every day, as well as tourists; it's very special.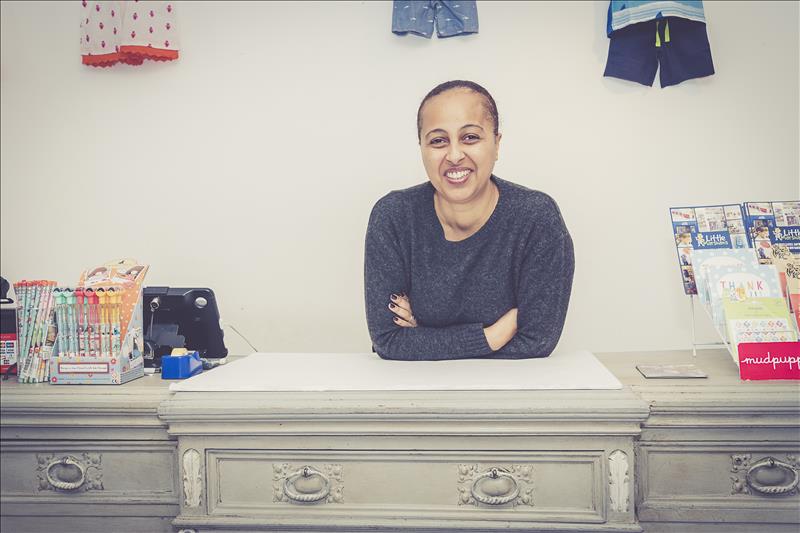 Published: 20/03/2017   Last Updated: 20/03/2017 11:11:25   Tags: Little Marshans, Lower Marsh, Waterloo, Childrens Shop, New Management
If you frequent Lower Marsh, you will probably have seen the quaint independent children's clothes and toy shop, Little Marshans and possibly heard on the grapevine, that the founder of the boutique recently came close to closing it down. To our delight, former employee at the shop Samantha has stepped up to the plate to rescue Little Marshans.
Now that you've taken over the business, do you have a master plan?
Now is just the beginning, so we will wait at least a couple of years, but we would like to expand and open a second store, if all goes well. We will start the online business as well, because these days I think it's very important. We already have a website, but it hasn't been used for selling. Because of Waterloo station and all the hotels around here; a lot of our customers don't even live in London, so they already ask us 'Are you online?'
Also, a lot of people from St. Thomas' have said they find it very difficult to find quality premature clothes, in independent British shops and end up buying online. So, if possible, we would like to start doing deliveries to St. Thomas' Evelina London Children's hospital.
I'd really like to utilise my basement, which is huge, by potentially offering baby yoga or expanding the shop down there, in the future.
How do you think things will change for you personally, now that you are self-employed?

It's a new challenge, I don't think it will be much different working for myself or for someone else. You should put all your strength and knowledge in either way. Most of the time I've worked in smaller shops, so the owner is never around. Usually it's us working in the shop and making the decisions for everything apart from our payment! Even ordering the clothes, I've always done that. Working in the small shops you have more responsibility; it's different to working in a big shop with lots of rules and procedures.
What did you use to do before taking over Little Marshans?
Previously, I worked with women's clothes; I started in H&M, the busiest one in London on Oxford Circus, it was crazy! After I moved to Fenwick on Bond Street, then Gucci. I've worked for many retailers, but never children's clothes. This was a welcome change as it's a lot more fun; the customers are so much more relaxed! I love choosing the stock for kids as it is always varied and colourful, providing a lot of joy to my clientele.
When you're buying stock for the shop what are your main considerations and criteria?
Our range is aimed at newborn-7 years old. We try not to go over because firstly the shop is not big enough and because from 7 years up, children really know what they want. It can be quite difficult even under 7, girls know what they want from an early age now. Luckily, they approve of what I stock it's just the parents having to negotiate with them what they can and can't have, which can be a problem.
What your most popular selling item?
Toys! We are buying the same brands we had before because they sell very well LE TOY VAN makes unique painted wooden toys such as dolls and pirate ships, then at the other end of the spectrum we have WOW bold plastic toys.
Are there any new items that you're introducing that you're excited about?
We have introduced one new brand so far called Kite. It's a very colourful clothing brand. I think it's nice for children and spring is coming, that's why I chose it. It's also a lower price point than Hatley or Mini A Ture, because Kite is British and the others are Canadian and Danish.
That's good, it's great to support other British brands.

Yes, especially now with Brexit, it's quite worrying. It will be expensive for retailers to buy from outside the EU. I will look consciously to find more brands that are British, but it's not easy, even with toys. There's an opportunity to try to develop something, but we will see!
What's your favourite thing about Lower Marsh?
I think it's the market stalls. They make Lower Marsh a destination point for lunchtimes, as you can get any type of food you like. They may not be the most beautiful thing to look on to, but it certainly does bring customers to the street.
How do you think the new business rates being introduced will affect the business?
I know they are going to increase them and as a new business it will affect us.
I think it's too much pressure for new businesses and in fact I think a lot of businesses will be forced to shut down, which is a real shame. I will just have to manage it as best I can, as and when. In the meantime, I am very excited about the shop and growing our customer base and presence on Lower Marsh.
Little Marshans 119-120 Lower Marsh, SE1 7AE
0207 803 0888 shop@littlemarshans.com
Instagram: @littlemarshans
Twitter: @littlemarshans
Facebook: @littlemarshans