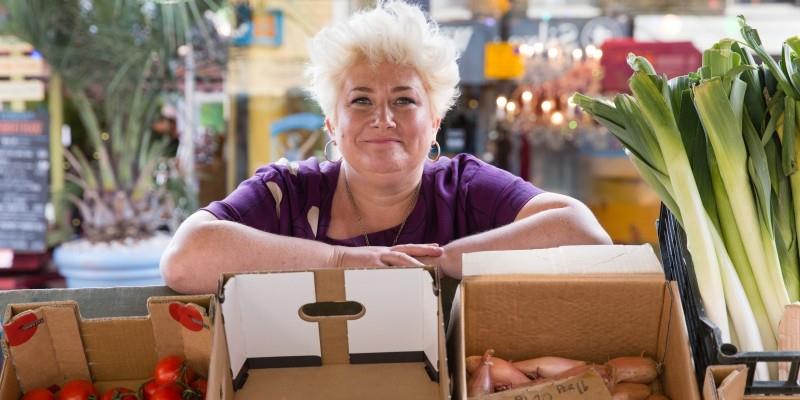 Published: 21/06/2017   Last Updated: 21/06/2017 12:40:48   Tags: Lower_Marsh, SE1, Market_Stalls, Waterloo
1. How is the food market going?
Very well, in December, there was a 19% increase on the previous year so growing fast. We Are Waterloo have invested a lot of time & money into the market, particularly for the customer. The addition of seating was crucial to retaining people in the warmer weather as well.
2. When did the market first originate?
1880. It used to be one of the longest street markets in London, running down not only Lower Marsh but the Cut too, selling fruit and veg, meat, fish bric a brac etc….However, it died a death in the 1980's when the Greater London Council (GLC) was dissolved resulting in massive cuts and the loss of a large part of its community.
3. What does your job involve?
So, my role as Food Market Manager, means I'm in charge of all the stalls and who we hire. I do marketing, business planning, accounting and debt recovery, which is a pain!
I love the drama of it, I get such a buzz, when it's all set-up, and there are huge queues!
4. Who is the most successful vendor for the market?
I think the ones that are doing the most covers are either Pad Thai or Ibrihim the Falafel man, they have a good source of regular customers.
Another one is Merrybok, offering Senegalese cuisine, they generally work longer hours and are here every day.
5. What time of year sees the most trade for the market?
Applications come in all the time, although they stop a bit during July and Aug, a lot of the traders go off to do the festival season, which is a massive money spinner for them. So, in summer we sometimes have less traders. New Year sees the most applications come in.
6. How long is the waiting list for a stall space?
I tend not to hold a waiting list, as it is very popular, but I generally at any given moment have 8 traders waiting for a stall at any given moment.
7. Are there any regulations you have to abide by to open a stall?

Of course, you have to register with us and Lambeth council for compliance; there is lots of food hygiene stuff, similar to what restaurants have to go through.
8. What has been the strangest/most alternative application for a stall you have ever received?
You know what is funny, is some of the brand names that people come up with; most I cannot share, but one did accidentally spell the C word with their branding…
9. If I wanted to start up a stall how would I go about applying? How much does it cost to set up a stall? Can you rent it weekly, monthly or does it have to be annually?
You would send in an application, we would invite you to a tasting and then go from there.
It can take up to 6 months for someone to get a stall, particularly with people who are not ready and do not get the operation of running a market stall.
We have a licence for the whole street so we rent out a specific pitch and then they pay our basic rate, and we try to guarantee them as many regular days as possible within negotiation.
Normal day rate is £10 for non-food, and they get a tent and a table. The produce stalls, selling fruit, veg, fish, is £20 per day, and they generally get a tent.
The hot food is £45 per day, due to the additional cost for electricity and storage.
10. What tips would you give any budding entrepreneurs looking to try out their business on a stall. Any usual mistakes you have come across?

Tips would be keep it simple, do what you love, and find something you love cooking, and keep your brand simple.
11. You had a very successful Christmas market with carols! Any other events planned for the year ahead?
We have the Waterloo food festival in July, we are going to launch this festival on the 29th June 2017, and will be closing the street for the whole day, with stalls in the middle of the street, street entertainment, workshops. It will be a day for the diary!
And the Christmas Carols again in December!
12. We've heard the busker appeared close to the Vaults, a great idea! Is this a permanent new fixture? Do you think music and food go hand in hand?

It is a permanent fixture now yes! Randomly these two guys just pitched up and started busking, which initially we thought was a bad idea, but they were really good so we let them keep going.
We have now sent it out to all the busking networks, and invited Morley College, who have a music programme around the corner to participate, so hopefully we'll have some decent buskers soon! The public generally stay longer when there is live music whilst they eat so, yes, it works well together.
13. Lastly, what in your opinion makes Lower Marsh so unique?
There is something that is in the air that makes it so unique, and it has a particular kind of culture with its independent shops. There is a real mixture of people and housing, with local authority accommodation, new builds and people coming to Waterloo to work every day, as well as tourists; it's very special.